Archive for the 'Uncategorized' Category
Friday, February 10th, 2017
Every two years our State Coordinators begin anew the long process of getting introduced the anti-bullying Healthy Workplace Bill, pushing for a public hearing in the committee to which the bill gets referred, organizing people to testify at the hearing when scheduled, resisting proposed amendments to gut or undermine the spirit of the bill, pushing for a positive committee vote, then lobbying all members of the sponsoring chamber (House/Assembly or Senate) to pass the bill AND when this all is done, do it again in the other chamber!
Thus, it is a long way from simply introducing a bill to enacting the bill as state law!
The new 2-year legislative session in states (except in New Jersey) begins. Two states are on the board with introduced versions of the HWB.
Washington State SB 5423 by prime sponsor Senator Maralyn Chase, long a champion of the bill from her tenure as State Representative. Visit the WA State Page and write your support to all the sponsors.
West Virginia HB 2169 by prime sponsor Delegate Barbara Evan Fleischauer, also a repeat supporter.
Be sure to use the E-Z mailer on the State Pages to send messages to sponsors. They need to hear that people are out there hurting, needing this legislation to move.
Tags: Barbara Evan Fleischauer, HB 2169, Healthy Workplace Bill, Maralyn Chase, SB 5423, Washington State HWB, West Virginia HWB, workplace bullying institute
Posted in Uncategorized | Post a Comment »
Wednesday, March 30th, 2016
On Jan. 1, 2015 California started mandating training in Abusive Conduct for supervisors (in employers with 50 or more workers). The definition was lifted verbatim from the WBI Healthy Workplace Bill (HWB) authored by Suffolk University Law Professor David Yamada.
WBI and its national network of volunteer State Coordinators has been lobbying for the complete HWB since 2001. Timid, business lobby-yoked state lawmakers are afraid to take a stand for workers who suffer health harm as the result of workplace bullying. Of course, the HWB does not include the phrase "workplace bullying." The term used is "abusive conduct."
California and Utah have mandated training. Utah's 2015 legislation is superior to California's, though it applies only to state agency employers. Utah requires that employers describe how they will provide protections to employees. California, at first, simply mandated the training. And the topic of abusive conduct, which is still legal until the full HWB is enacted into law in California, is to be added to mandated training on the employer's commitment to the prevention and resolution of illegal sexual harassment. Oops. This is confusing to nearly everyone. Many HR types hardly understand the power of having protected group status membership or not.
We worry that employees will conflate bullying (abusive conduct) with illegal forms of harassment, including exposure to a hostile work environment. They will falsely believe that abusive conduct is currently illegal because of the pairing with illegal forms of discrimination that violate state and federal laws.
Now comes an April 1 amendment to California Fair Employment and Housing Act Regulations. The section below shows the intended clarification regarding the content of the Abusive Conduct related to Government Code section 12950.1(g)(2).
The good news: the deleterious impact on the targets of abusive conduct must be discussed. Naturally, the negatives for the employer are to be included.
The bad news: the regulation lifts most of our HWB definition of abusive conduct but omits the critical element describing that personal health harm can be manifested. And time devoted to abusive conduct training should be "meaningful." Still vague.
Read the amended, clarifying regulation for yourself.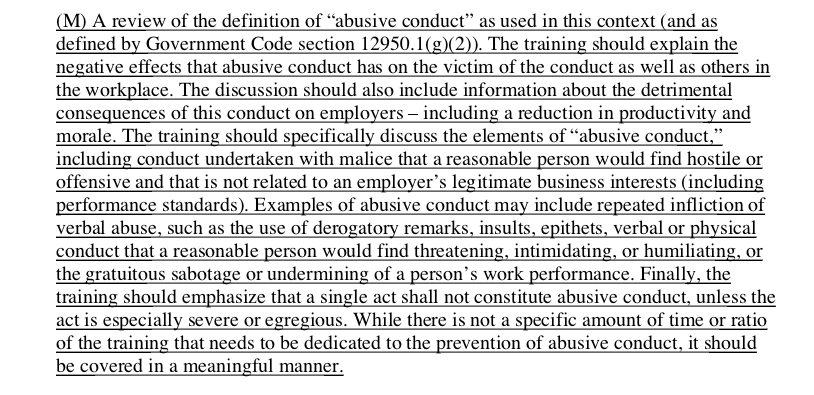 Tags: AB2053, abusive conduct, supervisor training, training, Workplace Bullying
Posted in Uncategorized | Post a Comment »
Wednesday, March 2nd, 2016
If you work for the State of Maryland, State Sen. Muse plans to convene a Task Force to study the extent and impact of workplace bullying and make recommendations. This is SB 689. It's not a prohibitive law, but he clearly does care about bullying of State workers. In the past, he has been very sympathetic to bullied workers.
On Tuesday March 15 at 1 pm at the Capitol, the Senate Finance Committee will hear testimony on the bill.
State workers, take time off work to go testify. On the Maryland State Page, you can find the link to instructions to give testimony. The committee wants written statements prior to the scheduled hearing. Please read and follow the instructions.
Good luck on March 15!
On March 1, HB 1104, the same Task Force bill, was heard in the House Appropriations Committee. Union supporters included AFT, AFSCME and MPAC and one bullied MDOT former employee. You can view the video here on the State website. Testimony begins at time mark 4:09:40 and ends at 4:26:00.
Tags: Anthony Muse, Maryland, SB 689, state employees, Workplace Bullying
Posted in Uncategorized | Post a Comment »
Thursday, February 18th, 2016
WV State House Delegate Barbara Evans Fleischauer, along with 8 co-sponsors introduced the Healthy and Safe Workplace Act (the Healthy Workplace Bill). West Virginia was the 9th state to ever introduce the HWB.
It is HB 4363.
Find all the details at the West Virginia State Page at this HWB website. Contact info for all sponsors and all four committee chairs is provided for West Virginians to thank and implore legislators to pass the bill.
Tags: HB 4363, Healthy Workplace Bill, West Virginia
Posted in Uncategorized | Post a Comment »
Sunday, February 14th, 2016
Rhode Island Sen. Frank Ciccone, long-time labor advocate, introduced SB 2377 on Feb. 10, 2016. It is the Healthy Workplace Act of 2016, the full version of the WBI Healthy Workplace Bill. Four other state senators signed on as co-sponsors.
SB 2377 makes Rhode Island the 30th state (and 32nd legislature in America) to introduce our bill.
Now it's on to the Senate Labor Committee where it awaits a public hearing.
Visit the Rhode Island State Page for details and information about all the sponsors and committee chairs.
Tags: Frank Ciccone, Healthy Workplace Bill, Rhode Island, SB 2377
Posted in Uncategorized | Post a Comment »
Sunday, February 14th, 2016
In 2016, long-time advocate for Maryland state workers, Sen. Anthony Muse, introduced a bill to compel the state to study workplace bullying and its impact on those employees. SB 689 became a bill on Feb. 5, 2016. Sen. Muse's bill was co-sponsored by five other Senators. If passed, the study of prevalence and impact within the state labor force by the Task Force is directed to be completed by the end of 2016.
House Delegate Patrick Young and 12 co-sponsors introduced the companion bill, HB 1104. The bill carries the exact wording.
Visit the Maryland State Page for details and complete contact information for all sponsors and committee chairs.
Tags: Delegate Patrick Young, Sen. Anthony Muse, Task Force
Posted in Uncategorized | Post a Comment »
Thursday, January 28th, 2016
ATTENTION WASHINGTON STATE RESIDENTS — ACT QUICKLY
Eleven Washington State House Representatives have sponsored the anti-bullying Healthy Workplace Bill (HB 2894). Another 11 state Senators of both parties are sponsoring the Senate companion bill (SB 6532). The HWB defines health-harming abusive conduct and makes it unlawful for employers to allow it to happen.
This marks the return of the legislation to Washington, absent since 2012. Washington was the 4th state to ever introduce the legislation.
If you live in the state, please visit the WA State Page at the Healthy Workplace Bill website.
Contact information for all bill sponsors and committee members can be found there. You can also volunteer to testify or help the State Coordinator get the bill through committees and floor votes in a very short legislative session. TIME IS VERY LIMITED!
Tags: HB2894, Healthy Workplace Bill, SB6532
Posted in Uncategorized | 1 Comment »
Thursday, October 22nd, 2015
Lana Cooke, West Virginia State Coordinator, Healthy Workplace Bill campaign

Ernie Cooke, Lana's supportive husband, Requiescat in pace dear gentle man

Jane Bethel, Virginia State Coordinator, Healthy Workplace Bill campaign

Neil Dias, Verizon

Susan Rae Baker

Tags: abusive conduct, anecdotes, bullied individuals, bullied targets, Workplace Bullying
Posted in Uncategorized | Post a Comment »
Thursday, October 22nd, 2015
8th Annual WBI Celebration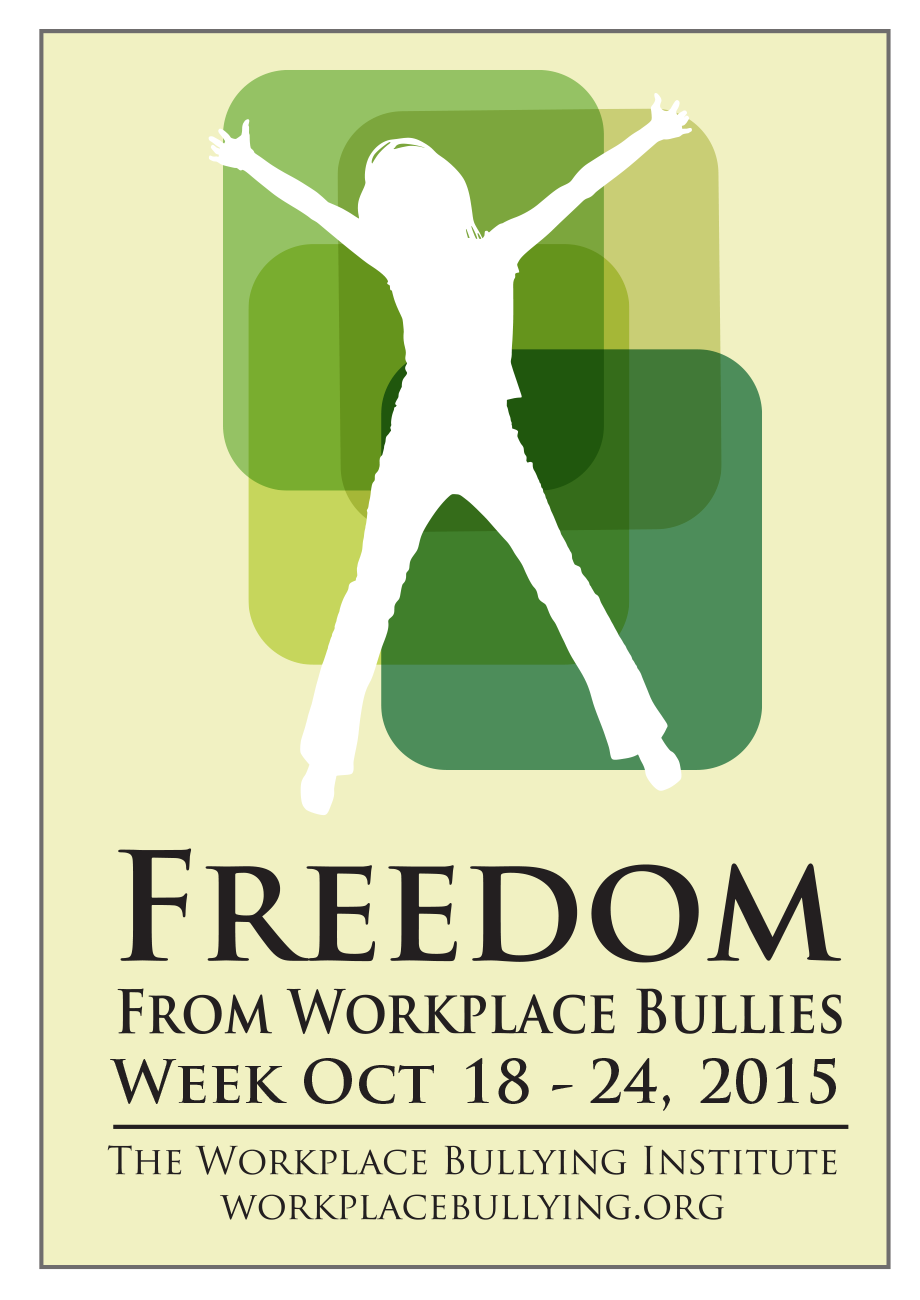 DO SOMETHING POSITIVE!
• As Targets of bullying, shame paralyzes us and prevents us from defending ourselves.
• As members of Targets' Families, we watch in horror as our loved ones' lives unravel before our eyes.
• As Witnesses, fear of engagement, fear of threats to our own safety, prevent us from helping targets.
• As Managers, we lack the skills to stop it, confusing bullying with conflict, which we all abhor.
• As HR, we watch helplessly because laws do not compel policies that give us authority to act.
• As Union officers, we are too occupied with survival to see how much our members are suffering.
• As Owners/Executives, we wonder why some of the most admired managers are considered abusive.
• As State Lawmakers, we fear losing business lobby support, so we ignore the Healthy Workplace Bill.
Unrealistic fears, self-blame, rampant institutional indifference, and waiting for regulations are the excuses to not take positive prosocial action today to help those who are harmed by abusive conduct of others. How dare we turn our backs. Are we not moral human beings with empathy for the plight of oppressed peers?
So, just this one week of the year, let's say "no" to all the rationalizations that sustain bullying in our workplaces. Open our eyes and see the harm caused.
Yes. Bullying costs employers. But bullying carries a tremendous human cost in terms of preventable stress-related injuries to the most capable workers among us.
DO SOMETHING POSITIVE! Visit the Freedom Week section of the WBI website.
Tell WBI the activity you plan for the week and we will post it here. Send message to namie at workplacebullying dot org.
Downloadable 2015 Flyers to print for your workplace.
Tags: Freedom From Workplace Bullies Week, Workplace Bullying, workplace bullying institute
Posted in Uncategorized | Post a Comment »
Tuesday, August 11th, 2015
As reported by David Yamada on his blog …
After being reported favorably out of the Joint Committee on Labor and Workforce Development, the Massachusetts Healthy Workplace Bill has been moved to a procedural stage called "Third Reading," which means it is now eligible for a full vote by the House of Representatives. As reported by Deb Falzoi on the Facebook page of the Massachusetts Healthy Workplace Advocates:
BREAKING NEWS: The Healthy Workplace Bill, HB 1771, has been ordered to a Third Reading in the House. This step is the furthest point the bill has gone in Massachusetts in previous sessions, but this session we've reached it much earlier in the session. Progress!
Without a doubt this is good news and increases the likelihood for a favorable result during the 2015-16 Massachusetts legislative session.
MA Mental Health Legal Advisors Committee recommends support of Healthy Workplace Bill
The Massachusetts Mental Health Legal Advisors Committee, an office appointed by the state's Supreme Judicial Court "to enhance and protect the rights of persons with mental health concerns in key areas most closely related to their ability to live full and independent lives free of discrimination," has submitted written testimony in support of the Healthy Workplace Bill. MHLAC senior attorney Susan Fendell, stated in her testimony that "(t)his bill, if passed into law, will profoundly improve people's daily lives by creating positive and consequently more productive work environments."
Attorney Fendell's testimony shared the story of a client with a learning disability who was subjected to severe physical and verbal abuse by a new supervisor. The client filed a disability discrimination claim, but because he was not able to show that the mistreatment was grounded in his disability, he did not prevail. MHLAC offered this story as an example of the gap that needs to be filled by the Healthy Workplace Bill.
MHLAC's welcomed statement of support highlights the potential power of the Healthy Workplace Bill to safeguard the mental health of all citizens.
Visit the Massachusetts State Page to read the bill.
Tags: h1771, MA
Posted in Uncategorized | Post a Comment »