October 22nd, 2015
2015 Freedom from Workplace Bullies Week: Oct 18-24
8th Annual WBI Celebration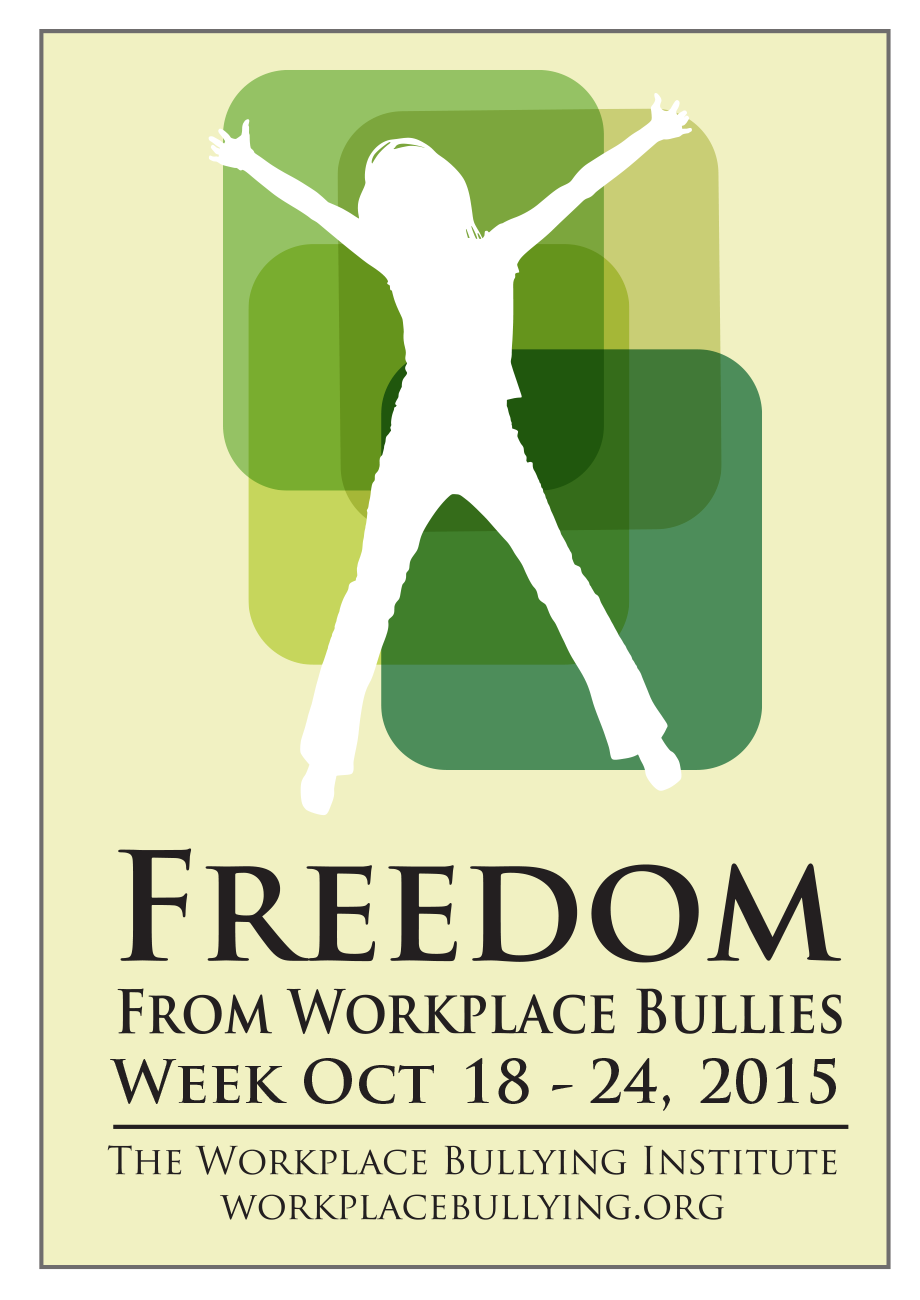 DO SOMETHING POSITIVE!
• As Targets of bullying, shame paralyzes us and prevents us from defending ourselves.
• As members of Targets' Families, we watch in horror as our loved ones' lives unravel before our eyes.
• As Witnesses, fear of engagement, fear of threats to our own safety, prevent us from helping targets.
• As Managers, we lack the skills to stop it, confusing bullying with conflict, which we all abhor.
• As HR, we watch helplessly because laws do not compel policies that give us authority to act.
• As Union officers, we are too occupied with survival to see how much our members are suffering.
• As Owners/Executives, we wonder why some of the most admired managers are considered abusive.
• As State Lawmakers, we fear losing business lobby support, so we ignore the Healthy Workplace Bill.
Unrealistic fears, self-blame, rampant institutional indifference, and waiting for regulations are the excuses to not take positive prosocial action today to help those who are harmed by abusive conduct of others. How dare we turn our backs. Are we not moral human beings with empathy for the plight of oppressed peers?
So, just this one week of the year, let's say "no" to all the rationalizations that sustain bullying in our workplaces. Open our eyes and see the harm caused.
Yes. Bullying costs employers. But bullying carries a tremendous human cost in terms of preventable stress-related injuries to the most capable workers among us.
DO SOMETHING POSITIVE! Visit the Freedom Week section of the WBI website.
Tell WBI the activity you plan for the week and we will post it here. Send message to namie at workplacebullying dot org.
Downloadable 2015 Flyers to print for your workplace.
Tags: Freedom From Workplace Bullies Week, Workplace Bullying, workplace bullying institute
This entry was posted on Thursday, October 22nd, 2015 at 8:09 am and is filed under Uncategorized. You can follow any responses to this entry through the RSS 2.0 feed. Responses are currently closed, but you can trackback from your own site.