Posts Tagged 'abusive conduct'
Monday, April 3rd, 2017
ALERT: The Joint Committee on Labor and Workforce Development meets Hearing Room A2 at the State Capitol on Tuesday April 4 at 1 pm. Public hearing for S 1013.
Massachusetts has been one of the more active states in recent years with the re-introduction of the anti-bullying Healthy Workplace Bill. The volunteer citizen lobbying group, Massachusetts Healthy Workplace Advocates, in concert with the public employees union, NAGE, have been the drivers of the years-long campaign.
The title of bill S 1013 is "An Act addressing workplace bullying, mobbing, and harassment, without regard to protected class status." It makes abusive conduct legally actionable. Employers are vicariously liable if they fail to prevent or correct it.
The immediate goal after a bill is introduced is to have the committee chairs agree to schedule a public hearing in the committee to which the bill was referred. Now, early in the legislative session, the hearing for S 1013 is set. With a positive vote from the committee, advocates can work with the bill sponsors to get the senior leaders in each chamber to call for a floor vote for the bill. This has been the snag in years past.
WBI will call on its supporters to help compel key Mass politicians to agree to that floor vote.
For now, we want everyone to thank the prime sponsor, Sen. Jennifer L. Flanagan
Her email: Jennifer.Flanagan@masenate.gov
Her office phone: 617-722-1230
Here is the list of all sponsors:
Diana DiZoglio, Frank I. Smizik, John W. Scibak, Angelo J. Puppolo, Jr., RoseLee Vincent, Thomas M. McGee, Louis L. Kafka, Barbara A. L'Italien, Lori A. Ehrlich, Daniel M. Donahue, Michael D. Brady, James J. O'Day, Aaron Vega, Kenneth J. Donnelly, Denise Provost, Jonathan Hecht, Bruce J. Ayers, Ann-Margaret Ferrante, Brian M. Ashe, Chris Walsh, Ruth B. Balser, Danielle W. Gregoire, Steven Ultrino, Tackey Chan, Donald F. Humason, Jr., Brendan P. Crighton, John J. Mahoney, Dylan Fernandes, Solomon Goldstein-Rose, William N. Brownsberger, Russell E. Holmes, Jonathan D. Zlotnik, Kevin G. Honan, Joan B. Lovely, James B. Eldridge, Claire D. Cronin, David T. Vieira, Michael O. Moore, John C. Velis, Kevin J. Kuros, Alice Hanlon Peisch, James Arciero, Byron Rushing, Paul McMurtry, Paul Brodeur, Sal N. DiDomenico, Christine P. Barber
Tags: abusive conduct, Massachusetts, S1013, Sen. Jennifer Flanagan, Workplace Bullying
Posted in Uncategorized | Post a Comment »
Wednesday, March 30th, 2016
On Jan. 1, 2015 California started mandating training in Abusive Conduct for supervisors (in employers with 50 or more workers). The definition was lifted verbatim from the WBI Healthy Workplace Bill (HWB) authored by Suffolk University Law Professor David Yamada.
WBI and its national network of volunteer State Coordinators has been lobbying for the complete HWB since 2001. Timid, business lobby-yoked state lawmakers are afraid to take a stand for workers who suffer health harm as the result of workplace bullying. Of course, the HWB does not include the phrase "workplace bullying." The term used is "abusive conduct."
California and Utah have mandated training. Utah's 2015 legislation is superior to California's, though it applies only to state agency employers. Utah requires that employers describe how they will provide protections to employees. California, at first, simply mandated the training. And the topic of abusive conduct, which is still legal until the full HWB is enacted into law in California, is to be added to mandated training on the employer's commitment to the prevention and resolution of illegal sexual harassment. Oops. This is confusing to nearly everyone. Many HR types hardly understand the power of having protected group status membership or not.
We worry that employees will conflate bullying (abusive conduct) with illegal forms of harassment, including exposure to a hostile work environment. They will falsely believe that abusive conduct is currently illegal because of the pairing with illegal forms of discrimination that violate state and federal laws.
Now comes an April 1 amendment to California Fair Employment and Housing Act Regulations. The section below shows the intended clarification regarding the content of the Abusive Conduct related to Government Code section 12950.1(g)(2).
The good news: the deleterious impact on the targets of abusive conduct must be discussed. Naturally, the negatives for the employer are to be included.
The bad news: the regulation lifts most of our HWB definition of abusive conduct but omits the critical element describing that personal health harm can be manifested. And time devoted to abusive conduct training should be "meaningful." Still vague.
Read the amended, clarifying regulation for yourself.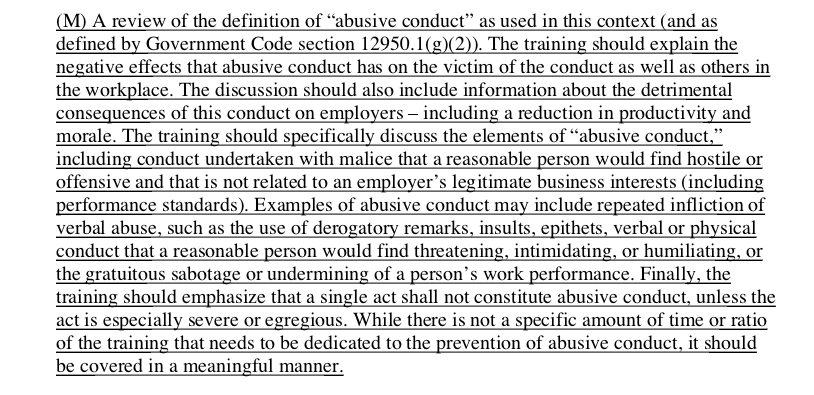 Tags: AB2053, abusive conduct, supervisor training, training, Workplace Bullying
Posted in Uncategorized | Post a Comment »
Thursday, October 22nd, 2015
Lana Cooke, West Virginia State Coordinator, Healthy Workplace Bill campaign

Ernie Cooke, Lana's supportive husband, Requiescat in pace dear gentle man

Jane Bethel, Virginia State Coordinator, Healthy Workplace Bill campaign

Neil Dias, Verizon

Susan Rae Baker

Tags: abusive conduct, anecdotes, bullied individuals, bullied targets, Workplace Bullying
Posted in Uncategorized | Post a Comment »
Monday, August 3rd, 2015
Workplace bullying is endemic in healthcare and education, including higher education, for reasons discussed elsewhere at the WBI website.
Now comes a story of an inept community college administration, at Weatherford College, unwilling to even consider complaints from a long-time faculty member. Professor Karen Lopez Austen about the abusive conduct she faced in the Athletics Department.
The WBI 2014 U.S. Workplace Bullying Survey revealed that most employers deny complaints or justify them. In Austen's case, they never considered the evidence she had assembled for the Board. An outsider can easily infer that the Administration, led by Kevin Eaton, had decided to not renew Dr. Austen's contract, despite the legitimacy of her complaint.
So, as was her right, Dr. Austen filed a civil suit claiming sex and ethnicity discrimination along with retaliation for daring to hold the college accountable to operate lawfully and according to internal policies. She probably, like most bullied targets, especially highly educated individuals, expected to find justice in court. We constantly warn targets that justice is rarely found and almost never in court.
Remember, the college administrators refused to hear her complaint. The trial court judge did not allow Dr. Austen her day in court. Judges possess ultimate authority to grant access to their courts.
Judges have two avenues to end cases before they start — dismissal or summary judgement. Targets are typically plaintiffs who sue their employers, the defense. The defense files the motion to dismiss. Dismissal is based on technical details of the case that have not been addressed ensuring that the law cannot relieve the problem — e.g., "including lack of subject matter jurisdiction, lack of personal jurisdiction, improper venue, insufficiency of process, insufficiency of service of process, failure to state a claim upon which relief can be granted, or failure to join a necessary party."
When the defense files a motion for summary judgement, it is saying that if the parties don't dispute the material facts of the case, then the judge can determine whether the defendant is liable based simply on the pre-trial evidence assembled, if any exists. In the case Austen v. Weatherford College, there was no such agreement. The civil case was all about the disputed facts. The college said nothing happened. Dr. Austen said otherwise. Guess what. The judge in Federal District Court agreed with the college and threw out the case based on summary judgement.
In most cases, financially strapped terminated and unemployed targets go no further. But Dr. Austen filed an appeal with the federal Fifth Circuit. It was no surprise that the Appellate Court upheld (agreed with) the pro-administration ruling of summary judgement. Remember, no entity had yet considered the evidence that plaintiff Austen had put together to prove her complaint of discrimination.
Austen's attorney, Mark Robinett, at the Austin Texas firm of Brim, Arnett & Robinett. P.C., was shocked by the 5th Circuit Court's ruling. What he found appalling was that his client's evidence did not matter. In a general letter to the public, attorney Robinett wrote:
… the Court of Appeals held that her evidence did not matter, that she had failed to present a "prima facie" case or "rebut the legitimate reasons for termination (sic nonrenewal) offered by the college. The court also holds, as if it has some basis for making a fact finding (which is a "no-no" for an appellate court) that "(t)he six serious, documented instances of misconduct from the semester after the settlement agreement were the primary reasons for termination (sic nonrenewal).
Robinett, quoting the appellate court's ruling stated
What matters is not the truth of the underlying complaints and reports, however, but rather whether the college could legitimately have relied on them in deciding to terminate Austen. The college could do so.
In fact, the college president, Eaton, mis-characterized Dr. Austen's complaint to the Board. The Board never heard Austen's perspective.
The injustices Austen faced was compounded by the 5th Circuit with its pro-institutional bias that claimed evidence did not matter. Robinett concluded that the court was doing a trial jury's job without the benefit of live testimony or assessing the credibility of the Weatherford College administrators.
Read Attorney Robinett's letter countering the assertion that Dr. Austen was not renewed for just reasons. She never got to tell her side of the story to an impartial court.
Justice in America?
Tags: 5th Circuit Court of Appeals, abusive conduct, dismissal, justice, Karen Lopez Austen, summary judgement, Weatherford College, Workplace Bullying
Posted in Uncategorized | 4 Comments »
Monday, April 27th, 2015
Pennsylvania state Rep. Mark Cohen, along with seven co-sponsors, introduced HB 1041 on April 21, 2015.
PA joins other states — Texas, New York, Massachusetts, and Minnesota — with versions of the WBI anti-bullying Healthy Workplace Bill (HWB) that include employer liability for enabling a health-harming abusive work environment.
In 2015 alone 11 bills have been introduced in 10 states. Since 2003, 29 states and two territories have introduced some version of the HWB.
If you are a Pennsylvanian, go to the State Page for all contact information for lawmakers — co-sponsors and the key members of the House Labor and Industry Committee. Thank sponsors and encourage committee leaders to hold a public hearing for the bill, HB 1041.
Tags: abusive conduct, HB 1041, Healthy Workplace Bill, law, legislation, Pennsylvania, Rep. Mark Cohen
Posted in Uncategorized | 19 Comments »
Thursday, April 23rd, 2015
Minnesota State Rep. Debra Hilstrom introduced the Healthy Workplace Bill — HF 2228 — on April 16. Co-sponsors soon joined her: Reps. Nelson, Slocum, Fischer, Shultz and Carlson.
Both bills, SF 1932 and HF 2228, were referred to committees in their respective chambers.
Read the details on the Minnesota State Page.
Tags: abusive conduct, Healthy Workplace Bill, HF 2228, Minnesota, Rep. Debra Hilstrom, Workplace Bullying
Posted in Uncategorized | Post a Comment »
Wednesday, April 1st, 2015
Utah HB 216, sponsored by Rep. Keven Stratton, sailed through the House and Senate and was signed into law by Gov. Gary Herbert. The training mandate law drew its definition of abusive conduct from the WBI Healthy Workplace Bill:
"Abusive conduct means verbal, nonverbal, or physical conduct of an employee to another employee that, based on its severity, nature, and frequency of occurrence, a reasonable person would determine is intended to cause intimidation, humiliation, or unwarranted distress or results in substantial physical or psychological harm as a result of intimidation, humiliation, or unwarranted distress; or exploits an employee's known physical or psychological disability."
The law requires state agencies to train supervisors and employees about how to prevent abusive conduct. Biannual training must include the definition of abusive conduct, its ramifications, resources available and the employer's grievance process. In addition, professional development training will also cover ethical conduct and leadership practices based on principles of integrity. The law takes effect July 1, 2015.
Trace the bill's route through the legislative process. WBI thanks the sponsoring Representative, Sen. Ted Weiler who ushered the bill through the Senate, the Governor, and State Coordinator Denise Halverson and citizen lobbyists who participated in committee hearings.
Utah is the second state to pass a training-only law to begin to address abusive conduct in the workplace. Utah's bill is superior to Calfornia's training-only bill of 2014.
Tags: abusive conduct, bill, Denise Halverson, Healthy Workplace Bill, Keven Stratton, law, legislation, Utah, Workplace Bullying
Posted in Uncategorized | Post a Comment »
Tuesday, March 31st, 2015
This Time, It's Personal
Will legislation to protect employees from workplace bullying stifle demanding managers?
By Steven Yoder, Comstock's, March 31, 2015
Carrie Clark, 63, says bullies aren't confined to playgrounds. Sometimes, they run the whole school. 
In 1995, Clark directed an English as a Second Language program in West Sacramento's Washington Unified School District. An influx of foreign students was forcing her staff to work ever-longer hours. She wrote several reports to the district superintendent documenting the extra load and asking for more help. She got no response, she says. So her teachers union representative suggested she put together a petition signed by program staff.
That got a reaction, but not the one she wanted. The superintendent took Clark off of the school's committee of department chairs and canceled and consolidated classes. Clark says he called her house and left an odd, garbled message, and one day after a meeting, he followed her into an empty hallway. Towering over her, his face a foot from hers, he screamed that he wanted "no more petitions!"
Scared, Clark quit a few weeks later. She developed tremors in her right side, which she still has, started having heart palpitations and couldn't sleep. Today, when she talks about what happened, her speech slows to a crawl and her voice quavers like a warped record. A Sacramento occupational medicine specialist diagnosed her with a post-traumatic stress disorder related to her job. After a 20-year teaching career, she'd never set foot in a classroom again. In 2002, she won a $150,000 workers' compensation claim against the district.
There's evidence that the superintendent targeted others who crossed him. He took a job in a district near Yuba City, and in January 1999 the teachers association president there told The Valley Mirror that the superintendent verbally threatened her and that she'd asked a court for a restraining order. She also told a reporter that she was having panic attacks for the first time in her life. (The superintendent, now retired, keeps an unlisted phone number and didn't respond to a certified letter sent to his address requesting an interview.)
Tags: AB 2053, abusive conduct, Ann Wrixon, bill, Carrie Clark, Gary Namie, Healthy Workplace Bill, HR, Independent Adoption Center, legislation, Michael Kalt, SHRM, Workplace Bullying
Posted in Uncategorized | 2 Comments »
Monday, March 23rd, 2015
Sen. Ron Latz a member of the Democratic-Farmer-Labor (DFL) party introduced SF 1932. Its first reading was today, March 23. SF 1932 is the complete version of the WBI anti-bullying Healthy Workplace Bill.
Minnesota tried the HWB back in 2011, but the bill went nowhere.
This 2015 bill was referred to the Jobs, Agriculture and Rural Development Committee.
In 2015, Minnesota becomes the fourth state to introduce the full bill, joining Massachusetts, New York, and Texas. Four other states amended the full bill and introduce some variation.
WBI thanks Sen. Ron Latz. Visit the MN State Page of the HWB website for details. And WBI recognizes the efforts of our volunteer State Coordinators — Jill Jensen, Debbie York & Scot Adams — who successfully lobbied for its introduction. Next step … a public Committee hearing. Stay tuned.
Tags: abusive conduct, Healthy Workplace Bill, legislation, Ron Latz, SF 1932, Workplace Bullying, workplace bullying institute
Posted in Uncategorized | 3 Comments »
Thursday, March 19th, 2015
By Sherill Gilbert, Times-Argus, March 3, 2015
Since 2007, the healthy workplace bill has remained on the committee's wall. Each new biennium this bill has been re-introduced. In January, Sen. Anthony Pollina has once again sponsored the bill. In the midst of budget issues, the talk of cutting jobs and programs only furthers the need to pass this bill. The bill would not require the state to fund this bill. It will increase productivity; it will mean employees would thrive in a safe and healthy environment; it will mean fewer sick calls and a decrease in errors. Perhaps even more important would be improvements to the morale and loyalty of staff.
For the state this would translate into more tax revenues to help lessen Vermont's money woes. I am sure many of you are asking how this could be.
Bullying has been estimated to cost the United States $300 billion that is passed on to goods and services, including health care. Bullies are extremely costly as well as a threat to the targets, families, community and health of the economy.
Tags: abusive conduct, Gary Namie, Healthy Workplace Bill, legislation, Sherrill Gilbert, Workplace Bullying
Posted in Uncategorized | Post a Comment »