Posts Tagged 'abusive conduct'
Thursday, March 12th, 2015
Texas state House Rep. Garnet F. Coleman on March 11, 2015 introduced the full version of the WBI anti-abuse Healthy Workplace Bill (HWB). HB 3226, the first-ever introduction in Texas.
Texas is the 29th state since 2003 to introduce the HWB. Texas joins Massachusetts and New York with proposed laws that make employers liable for exposing workers to health-harming abusive work environments.
Texas is the 7th state to introduced abusive conduct-related legislation in 2015.
Visit the Texas State Page at the HWB website for details.
Tags: abusive conduct, bill, Garnet F. Coleman, Healthy Workplace Bill, law, legislation, texas, Workplace Bullying
Posted in Uncategorized | 5 Comments »
Wednesday, March 11th, 2015
Mass. State Rep. Ellen Story, a staunch ally of the anti-abuse campaign for the workplace, has introduced the Healthy Workplace Bill (HWB) for the 2015-16 legislative session. Rep. Story has been involved since 2004! Her latest contribution is House bill H 1771. This is the full version of the bill that carries employer liability for enabling and maintaining a toxic work environment in which employees can be subjected to health-harming abusive conduct.
Mass. joins New York State making only two states with current bills that hold employers accountable for the psychological safety of the work environment. Of course, the HWB grants good employers an escape from vicarious liability when they voluntarily take steps to prevent and correct abusive conduct. But toothless bills gutted by the state chambers of commerce (and others in the business lobby) share one common element — no employer liability.
The very effective WBI affiliates, theMA Healthy Workplace Advocates, were able to secure 57 co-sponsors. In years past, the group, working in concert with organized labor, NAGE, orchestrated successful committee hearings. Perhaps this year after another hearing, H 1771 can move to a floor vote and beyond … to the Governor's desk.
We salute our Massachusetts volunteer State Coordinators and Citizen Lobbyists. Stay tuned.
You can track H 1771's progress at the MA State Page of the HWB website.
Tags: abusive conduct, Abusive work environment, Healthy Workplace Bill, MA Healthy Workplace Advocates, Mobbing, Workplace Bullying
Posted in Uncategorized | 1 Comment »
Thursday, February 19th, 2015
House Delegates Keam and Hope introduced HB 2089 in Jan. 2015, making Virginia the 28th state to introduce the WBI anti-bullying Healthy Workplace Bill. We thank the CWA Local 222, Annandale, VA, for their support.
Visit the VA State page for details.
The committee recommended "laying the bill on the table." Thus it will not leave the House.
Tags: abusive conduct, bill, Healthy Workplace Bill, legislation, Virginia, Workplace Bullying
Posted in Uncategorized | Post a Comment »
Thursday, February 12th, 2015
Featured on Waterford, CT community television: Dr. Kathy Hermes. She discusses the bullying-caused suicide of dear friend Marlene Braun and the need for state legislation, the Healthy Workplace Bill.
Tags: abusive conduct, Connecticut, domestic violence, Healthy Workplace Bill, Kathy Hermes, legislation, Workplace Bullying
Posted in Uncategorized | 2 Comments »
Tuesday, February 10th, 2015
Utah state Rep. Keven Stratton introduced a training-based mandate version of the Healthy Workplace Bill. It would require annual education by employers on the topic of abusive conduct — its definition, effects, and remedies.
Visit the UT State Page for details.
Tags: abusive conduct, Healthy Workplace Bill, Keven Stratton, Utah, Workplace Bullying
Posted in Uncategorized | Post a Comment »
Saturday, January 31st, 2015
In 2015, California law mandates that supervisors in all firms with 50 or more employees receive "training" in abusive conduct. The term "abusive conduct" was lifted from the WBI Healthy Workplace Bill language we have been using since 2003 to introduce and pass a comprehensive law against workplace bullying.
Training done right can overcome deficits in skills. Training is the wrong tool to reverse immoral conduct. But training is useful to make everyone aware that misconduct is happening.
Training backfires when it teaches there is a problem and the organization has no procedures in place to deal with the misconduct. It's clear that only a small (5.5%) of American employers have the will to actually prevent or correct health-harming abusive conduct. No effective state laws have yet been enacted to compel employer compliance. So, few have good policies. Even fewer have the voluntary desire to stop it. No laws; no policies; lazy employers.
When supervisors get trained, in the best possible way — live, interactive, Q&A sessions, employee expectations will rise. Everyone will wonder when and how the bullying will end in their workplace. If employer actions are limited to supervisor training, very little will be done. Employee distrust and disengagement will follow.
Another concern is how will the training be conducted? The new law based on AB 2053, adds training in abusive conduct (which is currently legal) to the requisite training in sexual harassment (which is illegal). The mix will not only confuse employees; most employers don't know the difference. Workers will be expecting policies for bullying to apply that don't exist.
It is alarming to find that many employers post online slide shows to educate workers about sexual harassment. It's a joke that no one takes seriously. A slide show with little content and no interaction. Really, how lazy can employers be. It's called "compliance." Given the complexity of bullying's effect on the entire workplace and the fact that current sex harass trainers and conflict resolution professionals don't understand bullying, we fear for the future.
In other words, disembodied training can do more harm than good. Beware of premature awareness!
Training should be preceded by a commitment by leadership to stopping bullying. Then, organizational prevalence should be determined. Next, a code or policy or set of behavioral expectations must be created along with procedures to correct confirmed violators. Then, and only then, should training be undertaken.
If you know of, or are, a California employer, contact WBI for help addressing the problem that will comply with the law and help your organization at the same time. We have also produced a 20 min. DVD to introduce Abusive Conduct to organizations.
Tags: abusive conduct, Gary Namie, Healthy Workplace Bill, training, workplace bullying institute
Posted in Uncategorized | 1 Comment »
Monday, January 5th, 2015
By Sherrill Gilbert, Vermont State Coordinator, the Healthy Workplace Campaign
The gavel will again call to order the Senate and the House. They will take an oath to serve the people of Vermont. The issues that impact the lives of Vermonters will once again be on the agendas, some will be re-introduced from the previous biennium. There are bills that were and still are valid and important to our community as a whole and the future of our workers and future generations. Workplace Bullying is controversial, it needs to be a public conversation and not hidden away as it has been the past seven years.
The Healthy Workplace Bill has been in the legislature since 2007, a few individuals decided they did not want this bill to be voted upon in committee nor did they want a public hearing on Bullying in the Workplace. This conversation would mean they would have to acknowledge bullying happens here and for several years they have turned their backs on the workers who have been abused by bullies.
There is a battle being fought in many workplaces here in Vermont in all fourteen counties. We are not alone, every state faces the same issues across America. Like all wars there are casualties. This war is no difference in that there are victims who are left broken, their lives are forever changed. For the bully this would not be enough, they would have to add more suffering and pain for the target, transferring the element of shame, the bully transfers the shame upon the target Stripping Targets of their self-esteem, their dignity and self-confidence publicly can be the straw that breaks the camel's back. We are talking about a psychological warfare, no bullets that can be seen or outward bruising.
Tags: abusive conduct, Healthy Workplace Bill, law, legislation, Workplace Bullying
Posted in Uncategorized | Post a Comment »
Friday, January 2nd, 2015
If not now, when will principled lawmakers come forward to not only introduce, but to work tirelessly to enact, legislation that holds employers accountable for allowing (through indifference or ignorance) or fostering (through rewards, both explicit and implicit) health-harming abusive conduct, a.k.a., workplace bullying?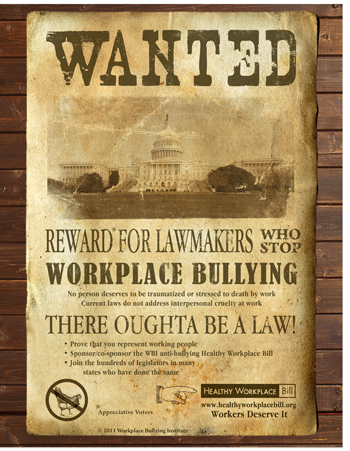 We seek elected officials who can resist arguments of pro-business lobbyists who make false claims about our Healthy Workplace Bill.
Here are some of those lies and distortions espoused by HWB opponents followed by the truth according to terms and provisions of the actual legislation.
1. Workplace bullying sounds childlike. Bullying is for kids; adults work.
The term does not appear in the text of the HWB bill. Instead, lawsuits will require demonstrably health-harming abusive conduct be shown that was followed by the employer's decision to punish the plaintiff with negative employment actions. Nothing infantile about abuse. Arguing "for abuse" should be condemned for not only poor "optics" but for the immorality of the position.
2. Bullying is too subjective. It cannot be defined.
So is sexual harassment, though illustrations can be given. But the perception's of the allegedly harassed recipient must be treated as credible until shown to be otherwise. This bill reflects the same subjectivity contained in civil rights statutes. By adding significant evidentiary burdens for the plaintiff, such as malice, proof of health harm, and a demonstrated pattern of repeated misconduct, the definition of abusive conduct approaches a more objective standard than long-standing harassment laws.
Tags: abusive conduct, health harm, Healthy Workplace Bill, legislation, objections, politicians, Workplace Bullying
Posted in Uncategorized | Post a Comment »
Monday, November 3rd, 2014
State to Workplace Bullies: Knock It Off
By Jonathan Horn, San Diego Union-Tribune, Nov. 2, 2014
When Stephen Cruz got a new supervisor a few years ago, his staff job at UC San Diego became something of a living hell.
The new boss would repeatedly yell at workers, scold them behind closed doors, tower above them at their desks, get visibly agitated and red in the face, and send out harsh emails when something went wrong. The emails didn't include foul language but called out workers with phrases like "I told you," or "I gave you a direct order," evidence of what Cruz called extreme micromanagement.
"It may have been stylistic, but it was unacceptable," said Cruz, who works on the medical school campus. "Yes, we need supervisors. Yes, we need managers. But we're not at each other's throats. We're there to work on the mission of the university."
Cruz, 46, said he considered the supervisor's conduct — which improved after university and union involvement — to be abusive.
A state law taking effect Jan. 1 hopes to curb that behavior at the start. The legislation, authored by Assemblywoman Lorena Gonzalez, D-San Diego, requires that employers in California with 50 or more workers include lessons on anti-workplace bullying when they carry out state-mandated sexual harassment training for supervisors every two years.
Tags: AB2053, abusive conduct, Gary Namie, Healthy Workplace Bill, supervisor training, UCSD, Workplace Bullying, workplace bullying institute
Posted in Uncategorized | Post a Comment »
Tuesday, October 7th, 2014
Law Takes Aim at Workplace Bullying, Raises Questions
By Laura Hautaia, Los Angeles Daily Journal, Sept. 17, 2014
What counts as bullying in the workplace?
While the concept may be relatively new, managers will have to undergo training on preventing abusive conduct at work once a new law goes into effect in January. The training will come along with other required lessons on preventing sexual harassment and discrimination, but it's different in one important way: bullying isn't illegal in California. For now.
Attorneys say AB 2053, which Gov. Jerry Brown signed in August, might open the door to making abusive conduct illegal, opening a new category of liability for employers.
"There's a feeling that there should be a way to prevent that kind of destructive behavior, because it does hurt people when it's extreme enough, and it causes economic damage," said Margaret H. Edwards, a shareholder at Littler Mendelson PC who has researched the advent of anti-bullying laws worldwide.
At the moment, the required training might still come into play in a court case if workers sue for harassment or intentional infliction of emotional damage in the workplace, attorneys said.
Whether or not employers provided adequate training on abusive conduct, said Chaya M. Mandelbaum, a partner at Rudy, Exelrod, Zieff & Lowe who represents workers, "could be a very relevant piece in looking at the culture of the workplace." Edwards said the new requirement heralds wider recognition of bullying as a problem that can be addressed with laws. Indeed, other states are considering bills that address bullying in schools, and Tennessee passed a law encouraging public employers to create anti-bullying policies.
What's more, she noted, laws have passed in Canada, the UK and Europe that address bullying in the workplace. "I think part of this is because of work that has been done that comes out of the harassment arena and a desire to try to address destructive behaviors in the workplace that don't quite fall into the traditional harassment and discrimination categories," Edwards said.
Some of that work has been done by Gary Namie, a Washington State social psychologist who advocates for anti-bullying legislation. He worked to get a more comprehensive law banning workplace bullying in California in 2003, but the law didn't pass. Namie said his organization, the Workplace Bullying Institute, talked with California Assemblywoman Lorena Gomez as she authored AB 2053, but that the resulting bill was watered down from what he hopes to see eventually become the law.
"The law is a baby step toward recognizing the impact of workplace bullying defined as abusive conduct," Namie said. Namie compares abusive conduct at work to domestic abuse. Rather than isolated incidents of cruelty, he said, bullying is a pattern that systematically beats down an employee.
Employment attorneys agreed with this description. "It's vicious a lot of times," said Kathryn B. Dickson. What's more, she said, everyone at the workplace can suffer when bullying takes place. "It has impact on morale and productivity." But Dickson also noted that while the law defines abusive conduct, naming it in the workplace might still be difficult." "It gets very mushy around the edges," she said. However, she compared the task of defining workplace bullying to the questions that surrounded the idea of sexual harassment when it was first litigated in courts. "People said how are we going to say what harassment is? That worked out."
One test case emerged in 2006, when a judge in London ruled in favor of a former employee of DB Services (UK) Ltd., a UK subsidiary of Deutsche Bank, who said she was systematically bullied at work until she suffered two bouts of Major Depressive Disorder. In a detailed, 46-page decision, High Court Justice Robert M. Owen said the bullying was harassment under the country's Protection from Harassment Act of 1997, and that the company should have done more to prevent it.
The plaintiff, Helen Green, said coworkers engaged in "petty" bullying conduct and went out of their way to exclude her from conversations, lunches, work-related email chains and more. Green even recounted that one coworker made a raspberry sound every time she took a step while walking across the office. "Many of the incidents that she describes would amount to no more than minor slights," Owen wrote. "But it is their cumulative effect that has to be considered." What's more, the company was privy to information about Green's mental health history and could have known she would be vulnerable to such bullying, he ruled.
Such situations aren't uncommon in American workplaces, plaintiffs' attorneys said. Mandelbaum said many people call seeking legal representation, only to learn what they experience at the hands of a coworker or supervisor is not illegal. What's more, often it's bullying that motivates someone to sue for sexual harassment or discrimination in the first place, he said. "It's that kind of conduct that underlies their feelings and their motivation to go through what they need to go through to enforce their rights legally." Mandelbaum said.
Tags: AB2053, abusive conduct, california, education, sexual harassment, supervisor training, workplace bullying law
Posted in Uncategorized | 2 Comments »