Posts Tagged 'legislation'
Tuesday, February 10th, 2015
The WBI State Coordinators are hard at work meeting with legislative sponsors for the WBI anti-bullying Healthy Workplace Bill. Here's a status report. As of Feb. 10 …
• North Dakota became the 27th state to introduce something — HB 1428. That something is a simple paragraph declaring that public sector employers have to address harassment, ostensibly not just the currently illegal variety of discriminatory misdeeds. The bill cleared the House on a 91-0 vote and is on to the Senate for consideration. Visit the ND State page at the HWB website for details.
• Connecticut has a somewhat related bill — SB 432. It creates an "advisory board," akin to past study groups and task forces that lawmakers use to delay taking any real action. Visit the CT State page at the HWB website for details.
• Utah's HB 216 is the boldest of the small step bills to date. It requires employers to address the HWB's definition of health-harming abusive conduct by providing annual training. Better than California's recently implemented training mandate, Utah would require coverage of not only the definition of the phenomenon, but its effect on worker's health and a description of what remedies the employer has in effect. Visit the UT State page at the HWB website for details.
• We saved the best for last. New York returns to lead the nation with a complete Healthy Workplace Bill in the Assembly — A 3250. The bill provides legal redress for employees harmed by abusive conduct. It rewards proactive employers who voluntarily protect workers with adequate policies and procedures with a litigation prevention mechanism. It defines the phenomenon and applies to employers in both private and public sectors. Our State Coordinators continue to set the highest bar for comparison. A 3250 has 80 co-sponsors. The Senate companion bill is in the works. Visit the NY State page at the HWB website for details.
Stay tuned for major developments as additional states come on board.
Tags: bills, Gary Namie, Healthy Workplace Bill, laws, legislation, prevention, state laws, workplace bullying institute
Posted in Uncategorized | Post a Comment »
Monday, January 5th, 2015
By Sherrill Gilbert, Vermont State Coordinator, the Healthy Workplace Campaign
The gavel will again call to order the Senate and the House. They will take an oath to serve the people of Vermont. The issues that impact the lives of Vermonters will once again be on the agendas, some will be re-introduced from the previous biennium. There are bills that were and still are valid and important to our community as a whole and the future of our workers and future generations. Workplace Bullying is controversial, it needs to be a public conversation and not hidden away as it has been the past seven years.
The Healthy Workplace Bill has been in the legislature since 2007, a few individuals decided they did not want this bill to be voted upon in committee nor did they want a public hearing on Bullying in the Workplace. This conversation would mean they would have to acknowledge bullying happens here and for several years they have turned their backs on the workers who have been abused by bullies.
There is a battle being fought in many workplaces here in Vermont in all fourteen counties. We are not alone, every state faces the same issues across America. Like all wars there are casualties. This war is no difference in that there are victims who are left broken, their lives are forever changed. For the bully this would not be enough, they would have to add more suffering and pain for the target, transferring the element of shame, the bully transfers the shame upon the target Stripping Targets of their self-esteem, their dignity and self-confidence publicly can be the straw that breaks the camel's back. We are talking about a psychological warfare, no bullets that can be seen or outward bruising.
Tags: abusive conduct, Healthy Workplace Bill, law, legislation, Workplace Bullying
Posted in Uncategorized | Post a Comment »
Friday, January 2nd, 2015
If not now, when will principled lawmakers come forward to not only introduce, but to work tirelessly to enact, legislation that holds employers accountable for allowing (through indifference or ignorance) or fostering (through rewards, both explicit and implicit) health-harming abusive conduct, a.k.a., workplace bullying?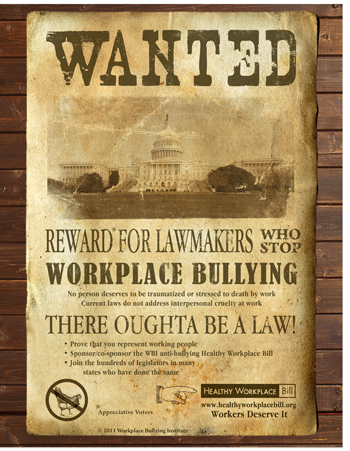 We seek elected officials who can resist arguments of pro-business lobbyists who make false claims about our Healthy Workplace Bill.
Here are some of those lies and distortions espoused by HWB opponents followed by the truth according to terms and provisions of the actual legislation.
1. Workplace bullying sounds childlike. Bullying is for kids; adults work.
The term does not appear in the text of the HWB bill. Instead, lawsuits will require demonstrably health-harming abusive conduct be shown that was followed by the employer's decision to punish the plaintiff with negative employment actions. Nothing infantile about abuse. Arguing "for abuse" should be condemned for not only poor "optics" but for the immorality of the position.
2. Bullying is too subjective. It cannot be defined.
So is sexual harassment, though illustrations can be given. But the perception's of the allegedly harassed recipient must be treated as credible until shown to be otherwise. This bill reflects the same subjectivity contained in civil rights statutes. By adding significant evidentiary burdens for the plaintiff, such as malice, proof of health harm, and a demonstrated pattern of repeated misconduct, the definition of abusive conduct approaches a more objective standard than long-standing harassment laws.
Tags: abusive conduct, health harm, Healthy Workplace Bill, legislation, objections, politicians, Workplace Bullying
Posted in Uncategorized | Post a Comment »
Tuesday, July 29th, 2014
Gov. Hassan Vetoes Workplace Bullying Bill
By Holly Ramer, Associated Press, July 28, 2014
CONCORD, N.H. (AP) — Gov. Maggie Hassan vetoed a bill Monday aimed at protecting New Hampshire state employees from abusive work environments, saying it was well-intentioned but unworkable.
Lawmakers passed the measure after hearing from current and former state workers who said they experienced workplace bullying. It would have required state departments and agencies to develop policies to address harassment.
But Hassan said the legislation's definition of "abusive conduct" was overly broad and would have made the most routine interactions potential causes of action. For example, workers could claim abuse if they believed they had "unreasonable" workloads, felt co-workers weren't answering emails in a timely manner or had received constructive criticism from supervisors or peers, she said.
"The bill also attempts to legislate politeness, manners and the interpersonal relationships of co-workers," Hassan said.
The governor said state employees deserve respect and the opportunity to work in respectful environments, but she argued the legislation would lead to a dramatic increase in lawsuits, which would in turn hinder productivity.
The bill's sponsor, Rep. Diane Schuett, said she hopes lawmakers will override the veto.
"We all know there's bullying in school, and just because someone graduates from school, doesn't mean they stop doing it, and it carries over into the workplace," she said. "It undermines the efficiency within state government if you end up with one or two employees being harassed on the job, either by another employee or a supervisor, and you end up with the entire agency being aware of it and feeling like they have to pick sides."
Schuett, D-Pembroke, and other supporters said the state has no written policy against abuse in the workplace nor any office procedure to follow to address such issues. But Hassan said existing state rules give employees an avenue for making complaints.
Diana Lacey, president of the State Employees' Association, disagreed. She said in the two years since the bill was first introduced, the governor has done little more than have the state personnel division develop an online "Respect in the Workplace" training presentation.
"It just feels like more stalling," she said. "The governor has the power to issue an executive order to take this more seriously … If the governor wasn't going to support the legislation, the governor's office should've pitched an executive order and has not done so. So we're very upset."
As for the concern about litigation, Lacey said state employees already have been using the courts to seek relief.
###
The WBI response to the veto.
Tags: abusive conduct, bill, bill veto, HB 591, Healthy Workplace Bill, law, legislation, Maggie Hassan, New Hampshire, SEIU Local 1984, SEIU/NAGE, Workplace Bullying
Posted in Uncategorized | Post a Comment »
Monday, June 16th, 2014
On June 18, 2014, 9 am, Room 20 House Building, the Economic Development and Workforce Services Interim Committee will hear testimony from Rep. Kevin J. Stratton and Utah State Coordinator Denise Halverson, PhD.
The committee will discuss: Abusive workplace conduct defined as malicious, repeated, health-harming mistreatment: verbal abuse, threats, humiliation, intimidation, work sabotage, exploitation of a known vulnerability, or retaliation for ethical conduct. An abusive work environment exists when an employer or one or more of its employees, acting with intent to cause pain or distress to an employee, subjects that employee to abusive workplace conduct that causes physical harm, psychological harm, or both. The committee will hear a presentation on the prevalence and effect of abusive work environments and discuss future legislative options.
Visit the Utah State Page to volunteer to get involved in this campaign to enact the anti-bullying Healthy Workplace Bill next year.
Tags: Healthy Workplace Bill, law, legislation, Utah, Workplace Bullying
Posted in Uncategorized | 1 Comment »
Friday, June 6th, 2014
If you are new to being bullied at work, you necessarily are consumed by righting the wrong and healing from the self-blame and shame that accompanies it. If you are reading this, you have discovered the WBI website that confirms you did nothing wrong, nor did you deserve the denigration, humiliation or ostracism.
You might have missed the fact that since 2001 we have spearheaded the effort in states to pass a law that would have given you a chance to threaten your employer with a lawsuit. Without the threat of a law, US employers are letting the perpetrators run with impunity. And that doesn't even count bullying done on behalf of executives and senior managers.
The name of our legislation is the Healthy Workplace Bill. Volunteer Coordinators in 36 states have managed to get the bill introduced in 26 states and in 2 territories — the U.S. Virgin Islands and Puerto Rico. The process is just beginning in the USVI, but progress is significant in PR.
Senator Rosanna Lopez Leon was the prime sponsor of S 501. The bill passed all committees, and both Camara (House) and Senado (Senate) floor votes. Reconciliation of the different versions was completed on June 3.
The bill awaits Gov. Padilla's signature.
Tags: Alejandro Padilla, Healthy Workplace Bill, law, legislation, mediation, Puerto Rico, Rosanna Lopez Leon, Workplace Bullying
Posted in Uncategorized | Post a Comment »
Wednesday, June 4th, 2014
Sen. Clarence Payne, Chair of the Health, Hospitals, Human Services & Veterans' Affairs Committee, has introduced our anti-bullying Healthy Workplace Bill in the U.S. Virgin Islands legislature. On June 6, in St. Croix, a public hearing for the bill will be heard.
Please visit the USVI Page at the HWB website and use the E-Z letter writer to show your support to committee members.
Tags: anti-bullying law, Clarence Payne, Healthy Workplace Bill, legislation, US Virgin Islands, Workplace Bullying
Posted in Uncategorized | Post a Comment »
Wednesday, June 4th, 2014
A good news / bad news tale. First, the good. On June 3, the Gov. signed into law encouraging public sector employers to adopt policies to address abusive conduct, the way WBI defines workplace bullying. Kudos go to brave Rep. Antonio Parkinson who took the full Healthy Workplace Bill through several committees. The bill did not survive intact, but the state is the first state to adopt a policy-driven approach taken by several counties and cities across the country. Read the details at the TN State Page of the HWB website.
Sadly, on the same week, Memphis WREG-TV-3 reported the Jim Crow era-like conduct of a white supervisor at a cotton warehouse toward black workers. No water fountain, no microwave, the days of segregation were good! The owner said he "outsources management services." Watch the story that is the basis of an EEOC discrimination case.
Tags: Antonio Parkinson, Atkinson Cotton Warehouse, Healthy Workplace Bill, law, legislation, Tennessee, Workplace Bullying
Posted in Uncategorized | Post a Comment »
Sunday, March 2nd, 2014
By Scott Whipple, The Bristol (CT) Press, March 1, 2014
NEW BRITAIN — Workplace bullying is back in the public eye.
According to a recent national survey, an overwhelming majority of Americans — 93 percent — support enactment of a new law that would protect workers from repeated abusive treatment at work. Only 1 percent strongly oppose such a measure.
"Because of the strong public support and stories from Connecticut citizens we are seeking sponsors in the state legislature to enact the Anti-Bullying Healthy Workplace Bill" said Katherine Hermes, state co-coordinator promoting the legislation.
Tags: Connecticut, Healthy Workplace Bill, Katherine Hermes, legislation, Peter Tercyak, Workplace Bullying
Posted in Uncategorized | Post a Comment »
Sunday, March 2nd, 2014
Ban on workplace bullying stalled at Vermont Statehouse
Advocacy group asks lawmakers to hold public hearing
by Stewart Ledbetter, WPTZ, NBC-TV, Montpelier, VT, Feb. 28, 2014
Sherill Gilbert says she walks the Statehouse hallways as often as she can, trying to persuade members of the Legislature to take up her cause.
She's determined, even after five years without much success.
 
"I'd love to see Vermont become first state with law against workplace bullying," Gilbert said Thursday. "I've heard from people from all 14 Vermont counties. Somebody needs to do something. It's the only legalized abuse in the United States."
Tags: 2014 U.S. Workplace Bullying Survey, anti-bullying bill, Healthy Workplace Bill, Kevin Mullin, legislation, Sherrill Gilbert, Vermont, William Doyle, Workplace Bullying
Posted in Uncategorized | Post a Comment »