Posts Tagged 'training'
Wednesday, March 30th, 2016
On Jan. 1, 2015 California started mandating training in Abusive Conduct for supervisors (in employers with 50 or more workers). The definition was lifted verbatim from the WBI Healthy Workplace Bill (HWB) authored by Suffolk University Law Professor David Yamada.
WBI and its national network of volunteer State Coordinators has been lobbying for the complete HWB since 2001. Timid, business lobby-yoked state lawmakers are afraid to take a stand for workers who suffer health harm as the result of workplace bullying. Of course, the HWB does not include the phrase "workplace bullying." The term used is "abusive conduct."
California and Utah have mandated training. Utah's 2015 legislation is superior to California's, though it applies only to state agency employers. Utah requires that employers describe how they will provide protections to employees. California, at first, simply mandated the training. And the topic of abusive conduct, which is still legal until the full HWB is enacted into law in California, is to be added to mandated training on the employer's commitment to the prevention and resolution of illegal sexual harassment. Oops. This is confusing to nearly everyone. Many HR types hardly understand the power of having protected group status membership or not.
We worry that employees will conflate bullying (abusive conduct) with illegal forms of harassment, including exposure to a hostile work environment. They will falsely believe that abusive conduct is currently illegal because of the pairing with illegal forms of discrimination that violate state and federal laws.
Now comes an April 1 amendment to California Fair Employment and Housing Act Regulations. The section below shows the intended clarification regarding the content of the Abusive Conduct related to Government Code section 12950.1(g)(2).
The good news: the deleterious impact on the targets of abusive conduct must be discussed. Naturally, the negatives for the employer are to be included.
The bad news: the regulation lifts most of our HWB definition of abusive conduct but omits the critical element describing that personal health harm can be manifested. And time devoted to abusive conduct training should be "meaningful." Still vague.
Read the amended, clarifying regulation for yourself.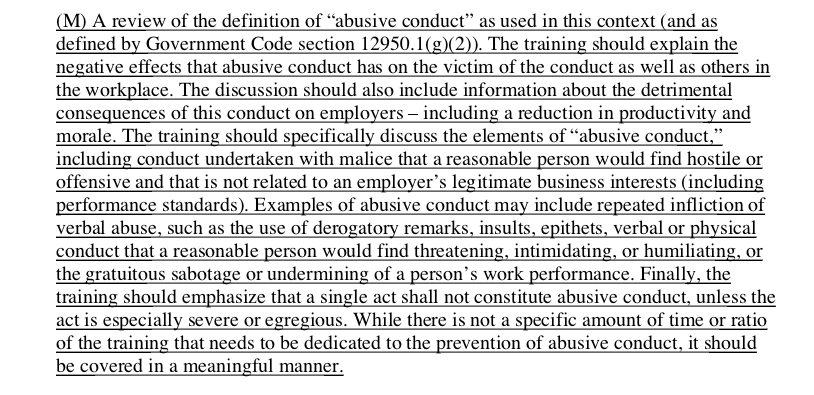 Tags: AB2053, abusive conduct, supervisor training, training, Workplace Bullying
Posted in Uncategorized | 3 Comments »
Saturday, March 14th, 2015
On March 12, the Utah Senate unanimously passed HB 216 on a vote 24 ayes -0 nays -5 not voting. The bill introduced by House Rep. Keven Stratton and sponsored in the Senate by Todd Weiler, sailed through both House and Senate committees and floor votes in both chambers. The bill becomes law with Gov. Gary Herbert's signature.
Though the HB 216 is not the complete Healthy Workplace Bill that carries employer liability for fostering an abusive work environment, it is stronger than two previous state laws — CA and TN — that mildly approached the epidemic of workplace bullying, abusive conduct as defined by the Workplace Bullying Institute.
Features of the Utah bill, soon to become law, are that it:
• applies to state agencies only
• mandates training of employees AND supervisors
• states that training will include description and "ramifications" of abusive conduct
• training to include resources available to abused workers
• and training to cover the internal grievance process details (WBI: to hold abuser accountable)
• also training in Ethical Conduct
• also training in Organizational Leadership with Integrity
• training every other year
• State may allocate funds to develop policies for agencies
• State may support development of agency training
Visit the Utah State Page at the HWB website for details. State Coordinator Dr. Denise Halverson deserves credit for shepherding this bill through the legislative process while providing her expertise on the topic so lawmakers could confidently and unanimously pass this HWB-related bill.
Tags: abusive conduct, Denise Halverson, Healthy Workplace Bill, Keven Stratton, legislation, Todd Weiler, training, Utah, Workplace Bullying, workplace bullying institute
Posted in Uncategorized | Post a Comment »
Saturday, January 31st, 2015
In 2015, California law mandates that supervisors in all firms with 50 or more employees receive "training" in abusive conduct. The term "abusive conduct" was lifted from the WBI Healthy Workplace Bill language we have been using since 2003 to introduce and pass a comprehensive law against workplace bullying.
Training done right can overcome deficits in skills. Training is the wrong tool to reverse immoral conduct. But training is useful to make everyone aware that misconduct is happening.
Training backfires when it teaches there is a problem and the organization has no procedures in place to deal with the misconduct. It's clear that only a small (5.5%) of American employers have the will to actually prevent or correct health-harming abusive conduct. No effective state laws have yet been enacted to compel employer compliance. So, few have good policies. Even fewer have the voluntary desire to stop it. No laws; no policies; lazy employers.
When supervisors get trained, in the best possible way — live, interactive, Q&A sessions, employee expectations will rise. Everyone will wonder when and how the bullying will end in their workplace. If employer actions are limited to supervisor training, very little will be done. Employee distrust and disengagement will follow.
Another concern is how will the training be conducted? The new law based on AB 2053, adds training in abusive conduct (which is currently legal) to the requisite training in sexual harassment (which is illegal). The mix will not only confuse employees; most employers don't know the difference. Workers will be expecting policies for bullying to apply that don't exist.
It is alarming to find that many employers post online slide shows to educate workers about sexual harassment. It's a joke that no one takes seriously. A slide show with little content and no interaction. Really, how lazy can employers be. It's called "compliance." Given the complexity of bullying's effect on the entire workplace and the fact that current sex harass trainers and conflict resolution professionals don't understand bullying, we fear for the future.
In other words, disembodied training can do more harm than good. Beware of premature awareness!
Training should be preceded by a commitment by leadership to stopping bullying. Then, organizational prevalence should be determined. Next, a code or policy or set of behavioral expectations must be created along with procedures to correct confirmed violators. Then, and only then, should training be undertaken.
If you know of, or are, a California employer, contact WBI for help addressing the problem that will comply with the law and help your organization at the same time. We have also produced a 20 min. DVD to introduce Abusive Conduct to organizations.
Tags: abusive conduct, Gary Namie, Healthy Workplace Bill, training, workplace bullying institute
Posted in Uncategorized | 1 Comment »