Posts Tagged 'workplace bullying institute'
Friday, February 10th, 2017
Every two years our State Coordinators begin anew the long process of getting introduced the anti-bullying Healthy Workplace Bill, pushing for a public hearing in the committee to which the bill gets referred, organizing people to testify at the hearing when scheduled, resisting proposed amendments to gut or undermine the spirit of the bill, pushing for a positive committee vote, then lobbying all members of the sponsoring chamber (House/Assembly or Senate) to pass the bill AND when this all is done, do it again in the other chamber!
Thus, it is a long way from simply introducing a bill to enacting the bill as state law!
The new 2-year legislative session in states (except in New Jersey) begins. Two states are on the board with introduced versions of the HWB.
Washington State SB 5423 by prime sponsor Senator Maralyn Chase, long a champion of the bill from her tenure as State Representative. Visit the WA State Page and write your support to all the sponsors.
West Virginia HB 2169 by prime sponsor Delegate Barbara Evan Fleischauer, also a repeat supporter.
Be sure to use the E-Z mailer on the State Pages to send messages to sponsors. They need to hear that people are out there hurting, needing this legislation to move.
Tags: Barbara Evan Fleischauer, HB 2169, Healthy Workplace Bill, Maralyn Chase, SB 5423, Washington State HWB, West Virginia HWB, workplace bullying institute
Posted in Uncategorized | Post a Comment »
Thursday, October 22nd, 2015
8th Annual WBI Celebration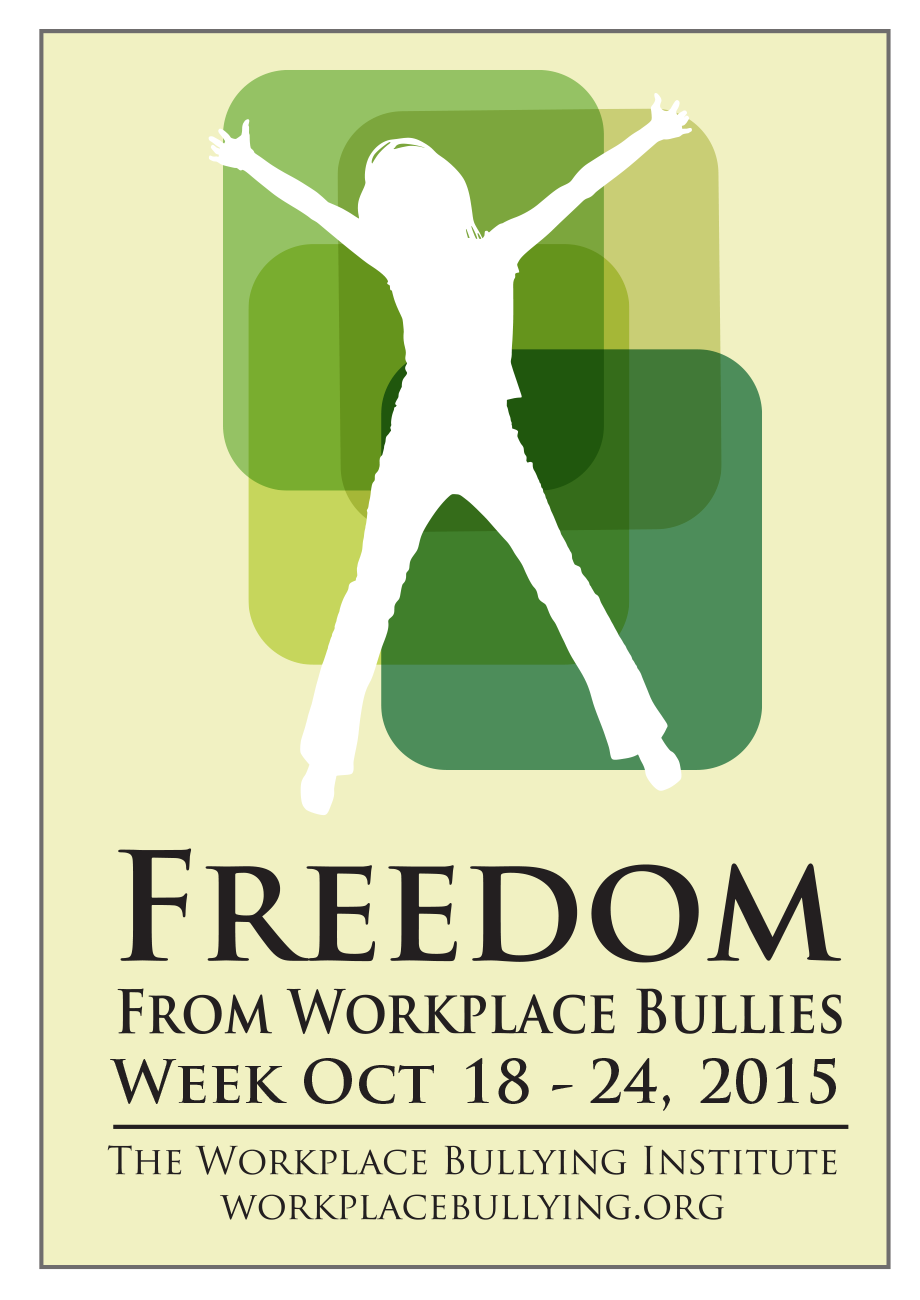 DO SOMETHING POSITIVE!
• As Targets of bullying, shame paralyzes us and prevents us from defending ourselves.
• As members of Targets' Families, we watch in horror as our loved ones' lives unravel before our eyes.
• As Witnesses, fear of engagement, fear of threats to our own safety, prevent us from helping targets.
• As Managers, we lack the skills to stop it, confusing bullying with conflict, which we all abhor.
• As HR, we watch helplessly because laws do not compel policies that give us authority to act.
• As Union officers, we are too occupied with survival to see how much our members are suffering.
• As Owners/Executives, we wonder why some of the most admired managers are considered abusive.
• As State Lawmakers, we fear losing business lobby support, so we ignore the Healthy Workplace Bill.
Unrealistic fears, self-blame, rampant institutional indifference, and waiting for regulations are the excuses to not take positive prosocial action today to help those who are harmed by abusive conduct of others. How dare we turn our backs. Are we not moral human beings with empathy for the plight of oppressed peers?
So, just this one week of the year, let's say "no" to all the rationalizations that sustain bullying in our workplaces. Open our eyes and see the harm caused.
Yes. Bullying costs employers. But bullying carries a tremendous human cost in terms of preventable stress-related injuries to the most capable workers among us.
DO SOMETHING POSITIVE! Visit the Freedom Week section of the WBI website.
Tell WBI the activity you plan for the week and we will post it here. Send message to namie at workplacebullying dot org.
Downloadable 2015 Flyers to print for your workplace.
Tags: Freedom From Workplace Bullies Week, Workplace Bullying, workplace bullying institute
Posted in Uncategorized | 4 Comments »
Monday, March 23rd, 2015
Sen. Ron Latz a member of the Democratic-Farmer-Labor (DFL) party introduced SF 1932. Its first reading was today, March 23. SF 1932 is the complete version of the WBI anti-bullying Healthy Workplace Bill.
Minnesota tried the HWB back in 2011, but the bill went nowhere.
This 2015 bill was referred to the Jobs, Agriculture and Rural Development Committee.
In 2015, Minnesota becomes the fourth state to introduce the full bill, joining Massachusetts, New York, and Texas. Four other states amended the full bill and introduce some variation.
WBI thanks Sen. Ron Latz. Visit the MN State Page of the HWB website for details. And WBI recognizes the efforts of our volunteer State Coordinators — Jill Jensen, Debbie York & Scot Adams — who successfully lobbied for its introduction. Next step … a public Committee hearing. Stay tuned.
Tags: abusive conduct, Healthy Workplace Bill, legislation, Ron Latz, SF 1932, Workplace Bullying, workplace bullying institute
Posted in Uncategorized | 3 Comments »
Saturday, March 14th, 2015
On March 12, the Utah Senate unanimously passed HB 216 on a vote 24 ayes -0 nays -5 not voting. The bill introduced by House Rep. Keven Stratton and sponsored in the Senate by Todd Weiler, sailed through both House and Senate committees and floor votes in both chambers. The bill becomes law with Gov. Gary Herbert's signature.
Though the HB 216 is not the complete Healthy Workplace Bill that carries employer liability for fostering an abusive work environment, it is stronger than two previous state laws — CA and TN — that mildly approached the epidemic of workplace bullying, abusive conduct as defined by the Workplace Bullying Institute.
Features of the Utah bill, soon to become law, are that it:
• applies to state agencies only
• mandates training of employees AND supervisors
• states that training will include description and "ramifications" of abusive conduct
• training to include resources available to abused workers
• and training to cover the internal grievance process details (WBI: to hold abuser accountable)
• also training in Ethical Conduct
• also training in Organizational Leadership with Integrity
• training every other year
• State may allocate funds to develop policies for agencies
• State may support development of agency training
Visit the Utah State Page at the HWB website for details. State Coordinator Dr. Denise Halverson deserves credit for shepherding this bill through the legislative process while providing her expertise on the topic so lawmakers could confidently and unanimously pass this HWB-related bill.
Tags: abusive conduct, Denise Halverson, Healthy Workplace Bill, Keven Stratton, legislation, Todd Weiler, training, Utah, Workplace Bullying, workplace bullying institute
Posted in Uncategorized | Post a Comment »
Tuesday, February 10th, 2015
The WBI State Coordinators are hard at work meeting with legislative sponsors for the WBI anti-bullying Healthy Workplace Bill. Here's a status report. As of Feb. 10 …
• North Dakota became the 27th state to introduce something — HB 1428. That something is a simple paragraph declaring that public sector employers have to address harassment, ostensibly not just the currently illegal variety of discriminatory misdeeds. The bill cleared the House on a 91-0 vote and is on to the Senate for consideration. Visit the ND State page at the HWB website for details.
• Connecticut has a somewhat related bill — SB 432. It creates an "advisory board," akin to past study groups and task forces that lawmakers use to delay taking any real action. Visit the CT State page at the HWB website for details.
• Utah's HB 216 is the boldest of the small step bills to date. It requires employers to address the HWB's definition of health-harming abusive conduct by providing annual training. Better than California's recently implemented training mandate, Utah would require coverage of not only the definition of the phenomenon, but its effect on worker's health and a description of what remedies the employer has in effect. Visit the UT State page at the HWB website for details.
• We saved the best for last. New York returns to lead the nation with a complete Healthy Workplace Bill in the Assembly — A 3250. The bill provides legal redress for employees harmed by abusive conduct. It rewards proactive employers who voluntarily protect workers with adequate policies and procedures with a litigation prevention mechanism. It defines the phenomenon and applies to employers in both private and public sectors. Our State Coordinators continue to set the highest bar for comparison. A 3250 has 80 co-sponsors. The Senate companion bill is in the works. Visit the NY State page at the HWB website for details.
Stay tuned for major developments as additional states come on board.
Tags: bills, Gary Namie, Healthy Workplace Bill, laws, legislation, prevention, state laws, workplace bullying institute
Posted in Uncategorized | Post a Comment »
Saturday, January 31st, 2015
In 2015, California law mandates that supervisors in all firms with 50 or more employees receive "training" in abusive conduct. The term "abusive conduct" was lifted from the WBI Healthy Workplace Bill language we have been using since 2003 to introduce and pass a comprehensive law against workplace bullying.
Training done right can overcome deficits in skills. Training is the wrong tool to reverse immoral conduct. But training is useful to make everyone aware that misconduct is happening.
Training backfires when it teaches there is a problem and the organization has no procedures in place to deal with the misconduct. It's clear that only a small (5.5%) of American employers have the will to actually prevent or correct health-harming abusive conduct. No effective state laws have yet been enacted to compel employer compliance. So, few have good policies. Even fewer have the voluntary desire to stop it. No laws; no policies; lazy employers.
When supervisors get trained, in the best possible way — live, interactive, Q&A sessions, employee expectations will rise. Everyone will wonder when and how the bullying will end in their workplace. If employer actions are limited to supervisor training, very little will be done. Employee distrust and disengagement will follow.
Another concern is how will the training be conducted? The new law based on AB 2053, adds training in abusive conduct (which is currently legal) to the requisite training in sexual harassment (which is illegal). The mix will not only confuse employees; most employers don't know the difference. Workers will be expecting policies for bullying to apply that don't exist.
It is alarming to find that many employers post online slide shows to educate workers about sexual harassment. It's a joke that no one takes seriously. A slide show with little content and no interaction. Really, how lazy can employers be. It's called "compliance." Given the complexity of bullying's effect on the entire workplace and the fact that current sex harass trainers and conflict resolution professionals don't understand bullying, we fear for the future.
In other words, disembodied training can do more harm than good. Beware of premature awareness!
Training should be preceded by a commitment by leadership to stopping bullying. Then, organizational prevalence should be determined. Next, a code or policy or set of behavioral expectations must be created along with procedures to correct confirmed violators. Then, and only then, should training be undertaken.
If you know of, or are, a California employer, contact WBI for help addressing the problem that will comply with the law and help your organization at the same time. We have also produced a 20 min. DVD to introduce Abusive Conduct to organizations.
Tags: abusive conduct, Gary Namie, Healthy Workplace Bill, training, workplace bullying institute
Posted in Uncategorized | 1 Comment »
Monday, November 3rd, 2014
State to Workplace Bullies: Knock It Off
By Jonathan Horn, San Diego Union-Tribune, Nov. 2, 2014
When Stephen Cruz got a new supervisor a few years ago, his staff job at UC San Diego became something of a living hell.
The new boss would repeatedly yell at workers, scold them behind closed doors, tower above them at their desks, get visibly agitated and red in the face, and send out harsh emails when something went wrong. The emails didn't include foul language but called out workers with phrases like "I told you," or "I gave you a direct order," evidence of what Cruz called extreme micromanagement.
"It may have been stylistic, but it was unacceptable," said Cruz, who works on the medical school campus. "Yes, we need supervisors. Yes, we need managers. But we're not at each other's throats. We're there to work on the mission of the university."
Cruz, 46, said he considered the supervisor's conduct — which improved after university and union involvement — to be abusive.
A state law taking effect Jan. 1 hopes to curb that behavior at the start. The legislation, authored by Assemblywoman Lorena Gonzalez, D-San Diego, requires that employers in California with 50 or more workers include lessons on anti-workplace bullying when they carry out state-mandated sexual harassment training for supervisors every two years.
Tags: AB2053, abusive conduct, Gary Namie, Healthy Workplace Bill, supervisor training, UCSD, Workplace Bullying, workplace bullying institute
Posted in Uncategorized | Post a Comment »
Monday, November 3rd, 2014
Utah State Coordinator, Denise Halverson, chief advocate for the WBI anti-bullying Healthy Workplace Bill, and citizen lobbyist Travis Ackerman joined Feedback show host Abby Bonell (pictured on left) on KNRS (Salt Lake City) to discuss workplace bullying and the HWB on October 30, 2014.
Audio clip: Adobe Flash Player (version 9 or above) is required to play this audio clip. Download the latest version here. You also need to have JavaScript enabled in your browser.
Tags: Abby Bonell, Denise Halverson, Healthy Workplace Bill, KNRS, Travis Ackerman, Workplace Bullying, workplace bullying institute
Posted in Uncategorized | 1 Comment »
Wednesday, October 15th, 2014
Robert Greer delivers proclamation to WV Healthy Workplace Advocate Pam Schrade at Bridgeport, WV City Council meeting.
West Virginia has been active with Healthy Workplace Bill legislation. New legislation will be introduced for the 2015-16 session.
Celebrate WBI's Freedom from Workplace Bullies Week October 19-25, 2014
Tags: Bridgeport, Freedom From Workplace Bullies Week, Pam Schrade, Robert Greer, West Virginia, workplace bullying institute
Posted in Uncategorized | Post a Comment »
Wednesday, August 13th, 2014
WBI Podcast 41
Pragmatic politics used to be considered a virtue, but it really means sacrificing the principles of representing the people to support corporations. With respect to the anti-bullying Healthy Workplace Bill, compromises have gutted the bill, extending the rights of employers instead of employees. This brand of pragmatism is destructive.
Audio clip: Adobe Flash Player (version 9 or above) is required to play this audio clip. Download the latest version here. You also need to have JavaScript enabled in your browser.
Tags: Healthy Workplace Bill, Podcasts, pragmatic politicians, workplace bullying institute
Posted in Uncategorized | Post a Comment »